A 14-year-old boy has been stabbed to death by attackers who knocked him
off a moped, in what police believe was a targeted attack.
The boy, named locally as Jayden Moody, was found in Bickley Road,Waltham Forest, at 18:30 GMT on Tuesday.
Detectives believe the moped had been involved in a crash with a car, after which three men got out the vehicle, stabbed the teenager and drove off.
He died at the scene. No arrests have been made and a cordon is in place.
Jayden is believed to be the youngest victim to die on London's streets in the past year. There were 132 homicides in 2018, the highest total since 2008.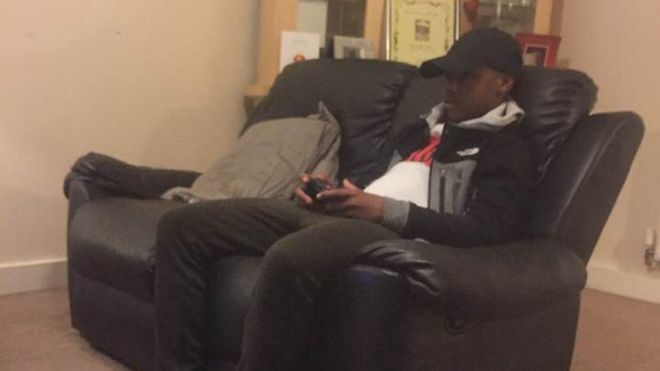 The wounded teenager, named locally as Jayden Moody, was found in Bickley Road, Waltham Forest
At the scene, a man who said he knew the victim paid tribute to a "wonderful child".
Solomon, who did not want to give his surname, said he had been in the area since he was told the news last night.
"As far as I'm concerned, Jayden was a good child, a loving child.
"The system is really letting down the youths."
Det Ch Insp Larry Smith, of the Metropolitan Police, said: "Everything that we have learned about this attack so far indicates it was targeted and intent on lethal force from the outset.
"We are doing everything we can to catch those who carried out this cowardly attack and bring them to justice."
A section 60 order has been put in place, allowing officers to search anyone in the vicinity of the scene for weapons.
Police have not said whether they believe the murder was gang-related but all lines of inquiry remain open.
Officers are trying to trace the vehicle used in the attack, which is believed to be a black Mercedes B Class with extensive frontal damage.
Kerry-Ann Honeygahn told the BBC how a few weeks ago, her friend took a knife away from the boy.
The 38-year-old youth mentor said she "wasn't surprised" to hear of the violence.
"Another young life has been taken on the streets of London."
Culled from BBC News.