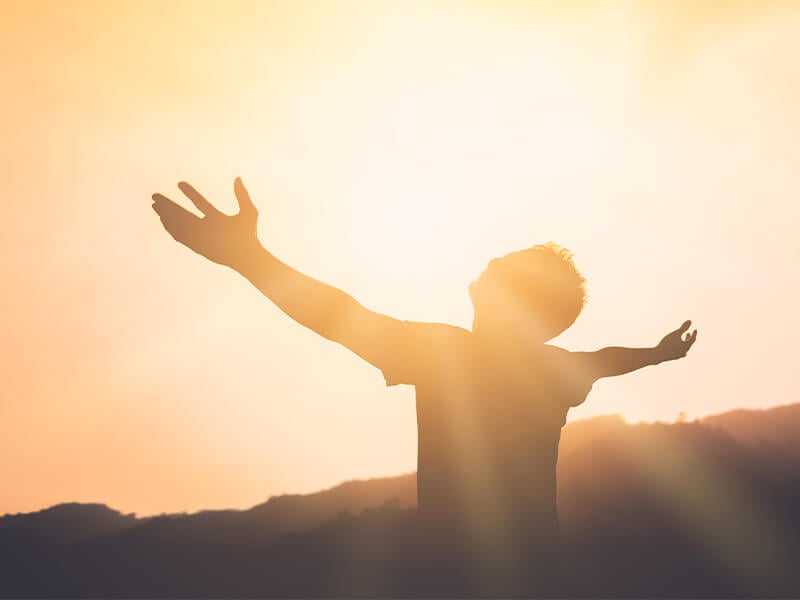 The Bible says, "For I know the plans I have for you,
declares the LORD, plans for welfare and not for evil, to give you a future and a hope" (Jeremiah 29:11). While God assures us that He is clear on His plans for us and that those plans are for good, it's not always easy figuring out where God is leading us. God may be trying to reach you to encourage you, guide you and lead you down a path of greatness. If you want to know if God is directing your down a certain path, it's important that you pay attention to the signs. He will put these things in front of you so certain things will be revealed to you. Here are five signs God is opening a new door in your life.
You Feel Like Something is Missing
Sometimes, we begin to feel a strong sense of emptiness, as if something important is missing from our lives when God is beginning to open a door for us. All Christians have feelings of spiritual emptiness from time to time. This is a sign that God is pointing you in a different direction. Sin may be a big reason for your spiritual emptiness – possibly the sin of apathy toward God or sluggishness in your daily life. Also, how we feel physically can impact how we feel spiritually. Remember, God is close to those who are in need of direction. Reach out to God through prayer, and meditation and ask God what door He may be opening in your life. When you seek, He will reveal this to you.
You Feel a Shift in Your Life
God often opens doors in ways we never imagined. Sometimes, God is opening a door in your life to get your attention so that He can guide you to your higher calling. This may translate into a career shift. As Mark 10:45 reminds us "For even the Son of Man did not come to be served, but to serve." That means that we should live lives that reflect our service to others. If your current job doesn't reflect this and you feel like something is missing or isn't feeling right, Jesus is trying to get your attention. The door God is opening up in your life may not be revealed to us overnight. However, through the use of gifts and talents in our careers, many of us discover what feels right and grow in our development.
You Feel a Calling
Sometimes when God is opening a new door in your life, you feel a calling to do more for others because you simply feel led to. The Bible tells us, "Now you belong to Him…in order that you might be useful in service to God" (Romans 7:4). One of the greatest ways to displays God's love and reflect Christ's presence is through acts of kindness and giving back. Regardless of your job or career, you are called to full-time Christian service. If you feel an underlying urge to do something bigger than yourself, to benefit the greater good without any need of reward, God is leading you to a Christ-filled life. Listen to Him. When you use your God-given abilities to help others, you are fulfilling your calling.
You Begin a New Relationship
Starting a new relationship is a big indicator that God is opening a new door in your life. It's important that you're open to listening to what the people in your life have to say, especially the spiritual ones. They will guide you, especially if you've fallen off course with God. These people will also affirm you. They are placed in your life by God so that you can recognize your full potential and God might be sending an important message through them. On the other side, be mindful of people who take you off course with God. Anyone who causes a separation between you and God is not a good person to have in your space. Once we remove these people from our lives we are in a better place to see where God is leading you.
You Have a Desire to Reconnect With Your Faith
Another big sign that God is opening a new door in your life is when you have a desire to reconnect with your faith. If you've been out of touch with God and off course spiritually, you may not have been to church in a while. If you have been attending regularly, you may feel disconnected from the service and message. But if you've found your way back to church, or you're in church and a verse, a song, or something in the pastor's central message catches your attention, it is a sign that Jesus is reaching out to you to listen. Don't think this is just by chance. The Holy Spirit is active and may be sending you an important message.
Embrace whatever that is for you and watch good things begin to open up in your life. Also, don't be afraid of what may be revealed through these messages.
As Christians, we want to know where God is leading us. Sometimes, we may even be anxious to discover the door that God is opening in our life. It's not always easy figuring out what God is doing with our lives. We want to know the one grand purpose God has for us and what paths Jesus is directing us down so we can make the best decisions. Ultimately, God is directing us to love Him, love others, obey Him, and take care of those around us. If we can concentrate on fulfilling the responsibilities He's given us, God will open up even bigger opportunities for us.