Margaret Atwood and Bernardine Evaristo have been named the joint winners
of the 2019 Booker Prize after the judges broke their rules by declaring a tie.
Atwood's The Testaments, the Canadian writer's follow-up to The Handmaid's Tale, was recognised alongside Londoner Evaristo's novel Girl, Woman, Other.
The pair will split the literary award's £50,000 prize money equally.
The Booker rules say the prize must not be divided, but the judges insisted they "couldn't separate" the two works.
Atwood, 79, is the oldest ever Booker winner, while Evaristo is the first black woman to win.
After their names were called, the pair stood arm-in-arm on stage and Atwood joked: "I would have thought I would have been too elderly, and I kind of don't need the attention, so I'm very glad that you're getting some.
"It would have been quite embarrassing for me… if I had been alone here, so I'm very pleased that you're here too."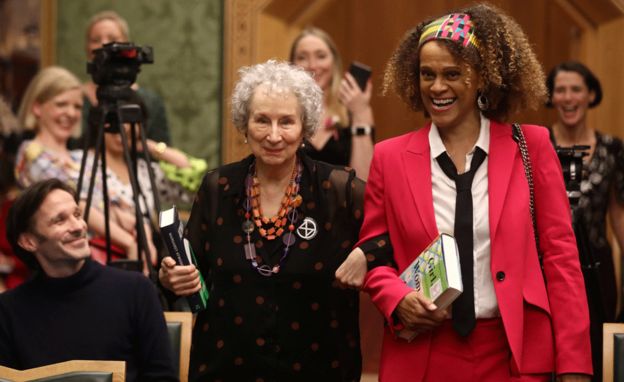 The award's rules were changed after the last tie in 1992, and organisers told this year's judges they were not allowed to pick two winners.
But after five hours of deliberations, Peter Florence, the chair of the judges, said: "It was our decision to flout the rules."
'Game-changer'
He told reporters: "The more we talked about them, the more we found we loved them both so much we wanted them both to win."
Evaristo and Atwood spoke together on Radio 4's Today programme on Tuesday morning.
Evaristo said winning was "a real game changer", adding: "It means my work gets out there to a much wider audience around the world.
"There are lots of prizes which people from certain communities don't win, certainly black people don't win lots of literary awards. No one seems to notice, but it's really important.
"A black woman has never won [the Booker before]. Only four black women have ever been shortlisted and there have been about 300 books shortlisted.
"Hopefully this signals a new direction for the Booker and the kind of judges they have. This year there were four women judges and one male.
"I hope more black women win this prize."
Atwood, who is from Ottawa, said: "It's great to be sharing with Bernardine… and I certainly hope you'll come to Canada, bring your warm clothing!"
She told Evaristo: "What you have done is to make it possible for more black women to consider that writing is something they can do."
It is 19 years since Atwood won the Booker for The Blind Assassin, and 33 years since she was nominated for The Handmaid's Tale.
With the latter book enjoying newfound popularity and resonance against the backdrop of Donald Trump's America, The Testaments picks up 15 years after the end of that novel.
Returning to the totalitarian, patriarchal Gilead, it is narrated by Aunt Lydia, one of the handmaids' instructors, and two teenage girls.
Peter Florence said: "It does massively more than follow the single story that we had from Offred. This is beautiful in its depth and exploration of the world of Gilead.
"As [Atwood] has said, it might have looked like science fiction back in the day, although all of the extremities are rooted in fact. Now it looks more politically urgent than ever before."
Published in September, The Testaments sold more than 100,000 copies in the UK in its first week, making it the fastest-selling hardback novel in four years.
Speaking before the ceremony, Atwood said winning would be "a double-edged sword for me, but for a younger person I think it would be great".
Bernardine Evaristo was born the fourth of eight children, in Woolwich, south east London, to an English mother and a Nigerian father. Her father was a welder and local Labour councillor; her mother was a schoolteacher.
She spent her teenage years at Greenwich Young People's Theatre, which was where she first became involved in the arts..
She went on to study at Goldsmiths, University of London, where she earned her PhD in creative writing.
A career in theatre followed and she was a co-founder of the Theatre of Black Women company in 1982.
She also set up the Spread the Word writer development agency, the Complete Works mentoring scheme for poets of colour and the Brunel International African Poetry Prize. She was made an MBE in 2009 for services to literature.
Girl, Woman, Other is 60-year-old Evaristo's eighth novel. It gives a chapter each to the lives of 12 intertwining characters, who are mostly black British women.
"We black British women know that if we don't write ourselves into literature no one else will,"
the author has said
.
Lesbian theatre director Amma, non-binary Morgan (formerly Megan), Barbadian bride Winsome and Northumbrian farmer Hattie are among the characters in a book that spans more than 100 years.
Peter Florence said there was "something utterly magical" about the book's characters, whom he said "give a wonderful spectrum of black British women today".
"There are stories there of people who haven't been visibly represented in contemporary literature, and in that sense this book is groundbreaking, and I hope encouraging and inspiring to the rest of the publishing industry."
In her acceptance speech, Evaristo said she hoped it would not be long before another black woman won the prize.
"It's so incredible to share this with Margaret Atwood, who's such a legend and so generous," she said.
"A lot of people say, 'I never thought it would happen to me', and I will say I am the first black woman to win this prize, and I hope that honour doesn't last too long. I hope other people come forward now."
She has called Girl, Woman, Other "a readable experimental novel". The experimental element mainly comes from the unorthodox punctuation, which often dispenses with quotation marks and capital letters.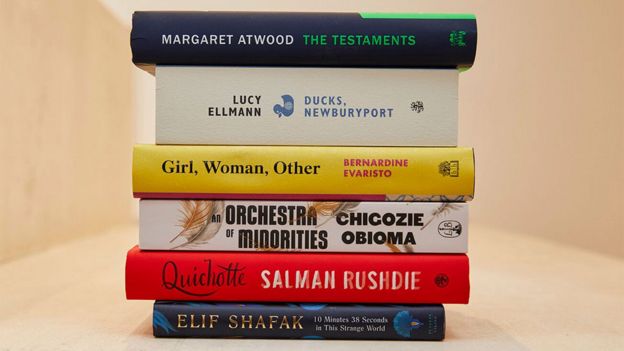 The award has been shared twice before - in 1974 and 1992 - but the rules were then changed.
"The thinking was it just doesn't work - it sort of detracts attention from both, rather than drawing attention to either," said Gaby Wood, literary director of the Booker Prize Foundation.
So when Florence told her the five judges wanted to announce a tie, she said no. The judges got back around the table.
Again, they told Wood they wanted two winners. This time, Wood phoned Baroness Kennedy QC, chair of the Booker Prize Foundation, who told her: "Absolutely not."
The judges deliberated again. "We tried voting, it didn't work," Florence said.
"There's a metaphor for our times. And equally, today of all days, when rebellion is in the air, maybe we were a little moved by that."
The panel resolved to hold firm on their split decision. Baroness Kennedy was called again.
"She said, 'Well, if that's what they've chosen to do, there's nothing we can do,'" Wood said.
"We had to move on."
Florence added that both winning books "have urgent things to say".
He told reporters: "They also happen to be wonderfully compelling, page-turning thrillers, which can speak to the most literary audience, to readers who maybe are only reading one, or in this case I hope two books a year, and can speak at different levels to all sorts of different readerships.
"So in that sense they are, I hope and believe, really valuable Booker Prize winners."
The other nominated novels:
Lucy Ellmann - Ducks, Newburyport
Chigozie Obioma - An Orchestra of Minorities
Salman Rushdie - Quichotte
Elif Shafak - 10 Minutes 38 Seconds in This Strange World
BBC News.