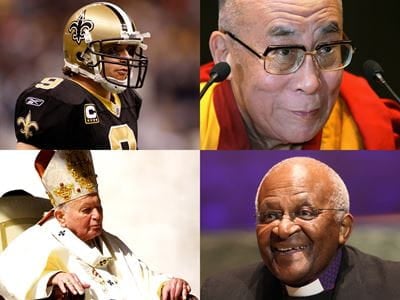 Uplifting Quotes From Male Role Models
A Man's Man
The wisdom of men is just as important as the wisdom of women. Although today's headlines can be full of troubling stories, many times we find men who bring peace and serenity to a situation. There are many intelligent men who can inspire us to act in the time of need - and do the right thing.
Check out several motivational quotes that will help push you to reach your goals. From leaders in sports, politics music, and more, take a look at what the guys have to say.
The Dalai Lama (Tenzin Gyatso)
Be Kind to Others
"Be kind whenever possible. It is always possible."
"In this world, in order to enable society to develop, all its members have to assume responsibilities and make their contribution. If we do not make collective contributions then there will be no development."
Bono (Paul David Hewson)
Be a Global Citizen
"Whenever you see darkness, there is extraordinary opportunity for the light to burn brighter."
"My heroes are the ones who survived doing it wrong, who made mistakes, but recovered from them."
"So what we're talking about here is human rights. The right to live like a human. The right to live, period. And what we're facing...is an unprecedented threat to human dignity and equality."
Mohandas Gandhi
Never Give Up
"The weak can never forgive. Forgiveness is the attribute of the strong."
"Non-violence is the greatest force at the disposal of mankind. It is mightier than the mightiest weapon of destruction devised by the ingenuity of man."
Prince William
Give Your Time to Those in Need
"I was influenced a lot by my visits to hostels with my mother when I was younger. I learned a lot from it, more so now that I did at the time. My mother used her position very well to help other people, as does my father, and I hope to do the same."
Pope John Paul II
Be a Light to Others
"Freedom consists not in doing what we like, but in having the right to do what we ought."
"Have no fear of moving into the unknown. Simply step out fearlessly... Do this in complete faith and confidence."
Drew Brees
Tackle the Problem of Bullying
"If you think that making fun of someone is harmless, you're wrong. If you think it's OK to do because everyone else is doing it, you're wrong. Bullying has to stop, and it has to start with you."
Pablo Picasso
Keep Creativity Alive
"Every child is an artist. The problem is how to remain an artist once we grow up."
"The purpose of art is washing the dust of daily life off our souls."
Archbishop Desmond Tutu
Work Toward a Just World
"If you are neutral in situations of injustice, you have chosen the side of the oppressor. If an elephant has its foot on the tail of a mouse and you say that you are neutral, the mouse will not appreciate your neutrality."
Jamie Oliver
Make Healthy Choices "All I ever wanted to do was to make food accessible to everyone; to show that you can make mistakes - I do all the time - but it doesn't matter."
"Start enjoying what you eat."
"I wish for your help to create a strong, sustainable movement to educate every child about food, inspire families to cook again and empower people everywhere to fight obesity."




Beliefnet.