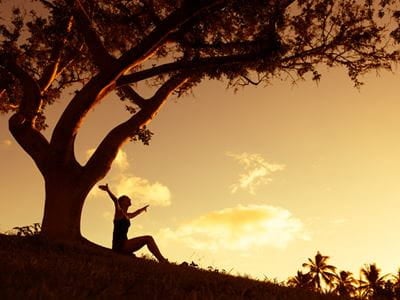 We were warned by Jesus that our time on earth will be filled with hardship,
trials, mistreatment and pain. With all of this going on in people's lives, it's no wonder our hope starts to shrivel up. Hope is not just a feel-good emotion, according to research, but it's part of a cognitive-motivational system. Positive psychologist Charles R. Snyder believed there was more to hope than accepting it was just a feeling. A person with hope has the will and determination that goals will be achieved. "To hope for something is to desire that thing, and to believe, rightly or wrongly, that the probability of it happening, though less than one, is greater than naught," Psychology Today reported. What kind of life did God promise us? Well, it's one that is not very easy or obvious at times. But the good news is we can master hardship and can crush giants by using hope as an armament. Here are 6 strategies for enhancing your hope today.
Be Tenacious
You must be resolute to live life on earth. Look at any underdog and they will tell you, you need to grab a hold of your faith and sometimes jump right into a fight. This takes tenacity and boldness. Remember the short kid who becomes a walk-on for Notre Dame's football team? Rudy Ruettiger encouraged his teammates with his faithfulness even when he never made the roster. Sometimes our faith won't grant us everything that we want because it might not be God's Will. Billy Graham said, "Only the forward-looking Christian remains optimistic and joyful, knowing that Christ will win in the end." Keep looking ahead and remain steadfast and you will find that your hope and faith will grow. But you can never give up even if you never make the team, get the promotion or reach all of your goals.
Rejoice
We know we can't be joyful all the time, but when hope is running thin, you need to start praising God. The apostle Paul knew this was a hard assignment in life. "For the sake of Christ, then, I am content with weaknesses, insults, hardships, persecutions, and calamities. For when I am weak, then I am strong." Scripture acknowledges that trials are not positive, but they can produce fruit and it can increase endurance which leads to hope. The choice to rejoice often must go deliberately against how we feel. When we go through heartaches, we are faced with a decision to either rejoice in the Lord or rebel against Him. "This joy in the Lord which we must aim for is not a superficial happiness based on circumstances or on the absence of trials, but rather is a solid, abiding contentment and hope that is as steady," wrote pastor Steven J. Cole of Flagstaff Christian Fellowship. If nothing else, being thankful will help you to see that you're really blessed and this cultivates hope.
Reshape Your Thoughts
"Hope is being able to see that there is light despite all of the darkness," author Desmond Tutu shared. Perhaps hope was always there, we just have to work harder to find it when life becomes sullen. Start getting rid of thinking that doesn't kindle hope. Start to examine your thoughts and how they drive emotions and reactions to people and circumstances. Record your thoughts on paper and anything that is a falsehood, substitute it with a Scripture. You don't have to be a slave to your thoughts if you remain its gatekeeper. When the mind is dark, the rest of your world will be as well, so change your thinking or hope will be intangible. Taking action and not being passive will help to feel more in command over your thoughts.
Face Your Fears
Fear will suck all of your hope out from you. People will say hateful things, circumstances could keep you from moving forward and the daily beatings of life certainly take their toll on a person and this could create a spirit of fear. Recognize that it is okay to admit and vent about situations and to face fear head-on. This does not ensure that you will get everything that you desire. Read the Word, pray against fear and don't take people's opinions as gospel. "Find out for yourself and look honestly into your heart of anything that doesn't believe there that is clouding your thinking and enlarge your faith," author and film producer Devon Franklin shared. Take down fear before it has a chance to take away your hope.
Take a Chance
You need to persevere so that when you have done the Will of God, you will receive what He has promised. Every time you accomplish something or do something good, write it down on a slip of paper and use it as a reminder of your success. To increase your hope, you need to increase your boundaries. This means taking on new work, new projects, a new position or taking a step forward in a new business enterprise. Things can become mawkish and we can lose our passion when we don't try anything new because we like our routines. We can't grow professionally or personally if we don't take measures and move into a new direction, even if we totally fail at it. God made us to move, not to sit on a shelf to accumulate dust.
Find Your Purpose
Do you truly believe that God wants to use you? Knowing that you have a purpose will increase your hope, otherwise, you are wandering around like a zombie. We all have a purpose and it's up to us to listen to God and to know what it is. No matter what you are looking to accomplish, learn all you can about the industry that you want to be in. You may feel led to attend a workshop or consider starting a business. You have one life to live, what are you doing with it? Playing it safe all the time can be a bore and you could be missing out on what God has for you. You can't find your purpose, which increases hope, by the way, sitting on the couch or by wishing for things to happen.
It's true that without hope we will perish. Hope doesn't have to be some pie-in-sky-feeling reserved for only a selected few. We have a choice to run after hope when it starts to float away from us. Hope is what keeps us going and without it, we will surely begin to see a part of ourselves recoil.
Beliefnet.