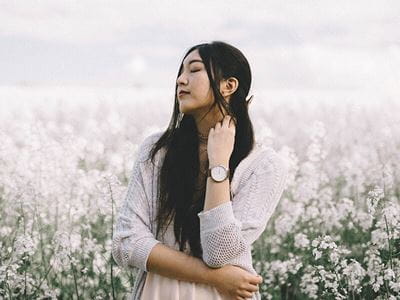 The Bible tells us "Do not be afraid; do not be discouraged, for the LORD
your God will be with you wherever you go" (Joshua 1:9). It's important to have faith in God in all circumstance but how can you offer total trust in God and the future when you're feeling a sense of separation from God or dealing with hardship and pain? The choices you make in these moments are so important. They can propel you toward God or away from Him. You can find God through these hard times by choosing to trust and hope when we can't see the way. This will help us turn to praise and glorify God better. When we focus our minds in the direction of God and proclaim His goodness, we reflect His glory. We begin to see that God isn't done with us. He doesn't have plans to harm us, but to prosper us (Jeremiah 29:11). When we do this, we are filled with peace and contentment. Here are six reasons to believe God isn't finished with you yet.
He is Always at Work
As we begin to invest our lives in Scripture and pay attention to the pain in our own lives, we recognize that in times of anguish, God is closer and more at work than we know or realize. This can reveal a great deal about our future and show us that God isn't finished with us. In fact, He has a plan for us. The Bible says, "Blessed be the God and Father of our Lord Jesus Christ, the Father of mercies and God of all comfort, who comforts us in all our affliction, with the comfort with which we ourselves are comforted by God. For as we shared abundantly in Christ's suffering, so through Christ we share abundantly in comfort too. If we are afflicted, it is for Your comfort and salvation; and if we are comforted, it is for Your comfort, which You experience when You patiently endure the same sufferings that we suffer. Our hope for You is unshaken, for we know that as You share in our sufferings, You will also share in our comforts" (2 Corinthians 1:3-8). Even in our pain and our suffering, we cry out, "Blessed be Your name" and we begin to see how God has been working through our lives.
He is Always Present
We serve a loving God, a God who is present come rain or shine. He is even present when we fail to realize it. It's important that we not only turn our focus back to praise when we begin to lose hope but also that we turn to praise in times of abundance. Many of us are quick to question God when things go wrong, but slow to honor Him when things go well. One of the biggest challenges here is turning every blessing He pours into our lives back into praise. One way we can do this is through gratitude. Psalm 100 exhorts this and us: "Enter His gates with thanksgiving and His spirits with praise; give thanks to Him and praise His name" (Psalm 100: 4-5). No matter what you're going through right now, glorify God and remember that He is working on your life.
He Sparks Passion in Our Lives
Sometimes, God tells us things in ways we may never have imagined. Sometimes, Jesus is trying to get your attention by telling you that you have a greater calling. This may translate into a career shift. As Mark 10:45 reminds us "For even the Son of Man did not come to be served, but to serve." That means that we should live lives that reflect our service to others. If your current job doesn't reflect this and you feel like something is missing or isn't feeling right, Jesus is trying to get your attention. Our calling may not be revealed to us overnight, but through using our gifts and talents in our careers, many of us discover what feels right and develop a need to do more.
He Points Us Where We Need to Be
Sometimes when we feel a sense of separation from God, He will point us in the direction we need to go. This reveals that God isn't finished with us because He has planned a future for us. If you've been out of touch with God and off course spiritually, you may not have been to church in a while and if you have been attending regularly, you may feel disconnected from the service and message. But if you've found your way back to church, or you're in church and a verse, a song, or something in the pastor's central message catches your attention, it is a sign that God is reaching out to you to listen. Don't think this is just by chance. The Holy Spirit is active in God's house and sending you an important message. Embrace whatever that is for you and watch good things begin to open up in your life. Also, don't be afraid of what may be revealed through these messages.
He Reveals Things to Us Through Our Relationships
It's amazing the people that God will direct in our lives that can reveal our greater purpose. Our relationships can reveal an important message from God. Be open to listening to what the people in your life have to say, especially the spiritual ones, particularly if you've fallen off course with God. These people will affirm you. They are placed in your life by God so that you can recognize your full potential and God might be sending an important message through them. On the other side, be mindful of people who take you off course with God. Anyone who causes a separation between you and God is not a good person to have in your space. Once we remove these people from our lives we are in a better place to see God's Will for our lives. Be especially present to new relationships that you weren't expecting. These people may be placed by God in your life to reveal something important about the direction God would like you to take.
He Shows Us the Power of Prayer at Work
If you're beginning to see how your prayers are being answered, you can see the power of God at work. The power of prayer in both big and small moments reveals to us that even in our fear of the toughest circumstances that God isn't finished with anyone of us. God is trying to tell you something in these moments. Jeremiah 33:3 tells us "Call to me and I will answer you, and will tell you great and hidden things that you have not known." Our Lord wants an intimate relationship with us and prayer is the best way to communicate with God. He wants us to actively call on Him so that He can answer our prayers. Never underestimate how real the power of prayer is. It can really help us to grow in our relationship with God. Even in our busy personal and professional schedules, we all have time to give God. When we're going through dark periods in our lives and don't know where to turn, practicing prayer daily gives us the chance to share where we are with God. Prayer also gives us the chance to hear what God is saying to us.
It's not always easy to know what direction we're going in and where we're being led but it's important for us to remember how much God cares about us. These six things show us the power of God's influence in our lives. Often, we want to know what God is telling us but it's not always easy hearing His voice or discerning the messages that may be right in front of us. Sometimes, we may even be anxious to discover His message. We want to know what God is telling us and follow His direction. We want to know the one grand purpose God had for us, and which paths Jesus is directing us down so we make the best decisions. You may not be able to hear His voice directly, but He is never finished with you. If you can concentrate on these signs, He may be revealing something great for you.