Tributes have been paid to the former Liberal Democrats' leader Paddy Ashdown,
who died on Saturday after a short illness aged 77.
A party spokesman said the Lib Dem peer and former MP for Yeovil "made an immeasurable contribution to furthering the cause of liberalism".
Current party leader, Sir Vince Cable, said Lord Ashdown had "made a real mark" and it was "a hugely sad day".
Lord Ashdown was diagnosed with bladder cancer in October.
While his real name was Jeremy John Durham Ashdown, he was nicknamed Paddy when he moved to England, after spending his childhood years in Northern Ireland.
The longest serving leader of the Lib Dems in its history, Lord Ashdown led the party between 1988 and 1999, when it became a growing force in UK politics.
After standing down as an MP in 2001, he served as the United Nations' high representative in Bosnia-Herzegovina, helping steer the country through its post-war reconstruction.
Former Lib Dem leader and ex-deputy PM Sir Nick Clegg said Lord Ashdown was "the most heartfelt person I have known".
"Paddy was the reason I entered politics," he said.
"He was the reason I became a liberal. And he became a lifelong mentor, friend and guide."
People from outside of politics also paid tribute to the politician.
Monty Python actor John Cleese tweeted that it was "really terrible" news, while scientist and TV presenter Prof Brian Cox said Lord Ashdown had lived "a remarkable life".
Comedian Matt Forde also tweeted: "Really sad to hear about the passing of Paddy Ashdown. He was one of the great politicians of my lifetime, a proper heavyweight.
"His pragmatism never got in the way of his principles. He was also a great laugh. We need more politicians like Paddy, not less. RIP."
Former Lib Dem leader Tim Farron said: "Paddy Ashdown was a hero to me, he saved and revived the Liberal Democrats at our lowest ebb, and then led us to our best result for 70 years.
"As a movement, we owe him our very existence."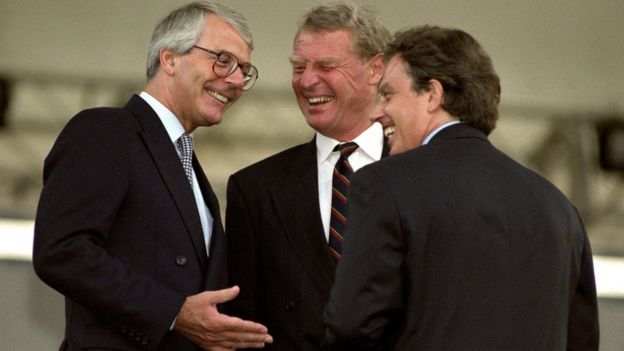 BBC.