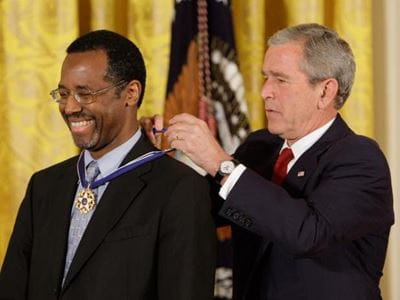 Dr. Ben Carson is a retired American pediatric neurosurgeon whose life story was told in the Hollywood movie
Gifted Hands
– in which he was played by Cuba Gooding Jr. In 2008, he was awarded the Presidential Medal of Freedom by President George W. Bush. But he became a popular figure after delivering widely publicized comments at the 2013 National Prayer Breakfast in which he gently chided President Barack Obama. Author of two bestselling books. Dr. Carson is known for his words of encouragement. Here are a few for your inspiration:
Gifted mind!
"Success is determined not by whether or not you face obstacles, but by your reaction to them. And if you look at these obstacles as a containing fence, they become your excuse for failure. If you look at them as a hurdle, each one strengthens you for the next."
"Do your best and let God do the rest."
"Successful people don't have fewer problems. They have determined that nothing will stop them from going forward."
"God has given us more than fourteen billion cells and connections in our brain. Why would God give us such a complex organ system unless he expects us to use it?"
"Everyone in the world is worth being nice to. Because God never creates inferior human beings, each person deserves respect and dignity.
"If we acknowledge our need for God, he will help us."
"Tell the truth. If you tell the truth all the time you don't have to worry three months down the line about what you said three months earlier. Truth is always the truth. You won't have to complicate your life by trying to cover up."
"When I treat other people with kindness and love, it is part of my way of paying my debt to God and the world for the privilege of living on this planet."






"Knowledge is the key that unlocks all the doors. You can be green-skinned with yellow polka dots and come from Mars, but if you have knowledge that people need instead of beating you, they'll beat a path to your door."






"I have to come to realize that God does not want to punish us, but rather, to fulfill our lives. God created us, loves us and wants to help us to realize our potential so that we can be useful to others."






Perhaps instead of screaming at each other, it is time to engage in intelligent conversation about our desire to preserve the rights granted by our Constitution




Beliefnet.com